OPENS THE PORES SO THAT THE PRODUCTS WORK AS EFFICIENTLY AS POSSIBLE
Steam increases skin's permeability, enabling it to better absorb topicals. This means you get more bang for your buck from skincare products applied after a steam.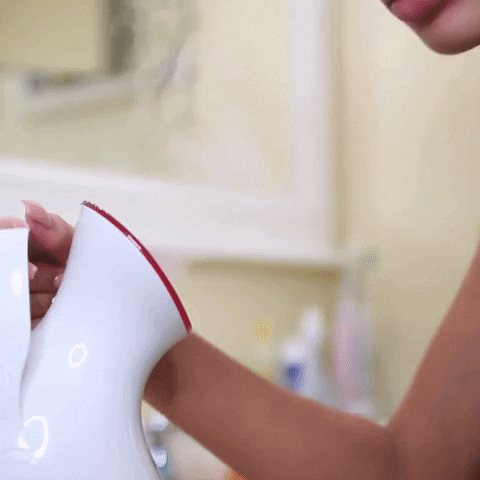 HELPS LOOSEN ANY BUILDUP OF DIRT FOR A DEEPER CLEANSE
Opening up your pores also softens blackheads, making them easier to remove.
HYDRATES THE SKIN
Steam hydrates the skin by helping to increase oil production, naturally moisturizing the face.
HOW IT WORKS
During the steam
Keep your eyes closed.

 

You'll be more comfortable, you won't risk irritating your eyes, and you can allow your eyelids to enjoy the benefits of the steam.
Keep your face 6 to 10 inches away.

 

You don't want to get too close to the bowl or sink and risk getting burned. Listen to your skin and do what feels comfortable.
Read the instruction booklet and use your facial steamer as directed.
Immediately after
Rinse with lukewarm water and pat dry.

 

Your skin will be extra sensitive, so you don't want to irritate it by rubbing it with a towel.
Apply a moisturizing cream or serum.

 

The effects of your moisturizer or serum will be enhanced after a steam, so use something that nourishes. If you're after younger-looking skin, this is a great time to use an anti-aging cream.
Massage your face.

 

What better way to end a relaxing face steam than with a gentle face massage? Use your fingers to gently massage your forehead, cheeks, and neck using upward strokes. Unless you have oily or sensitive skin,

 

you can use a bit of facial oil to enhance your massage.